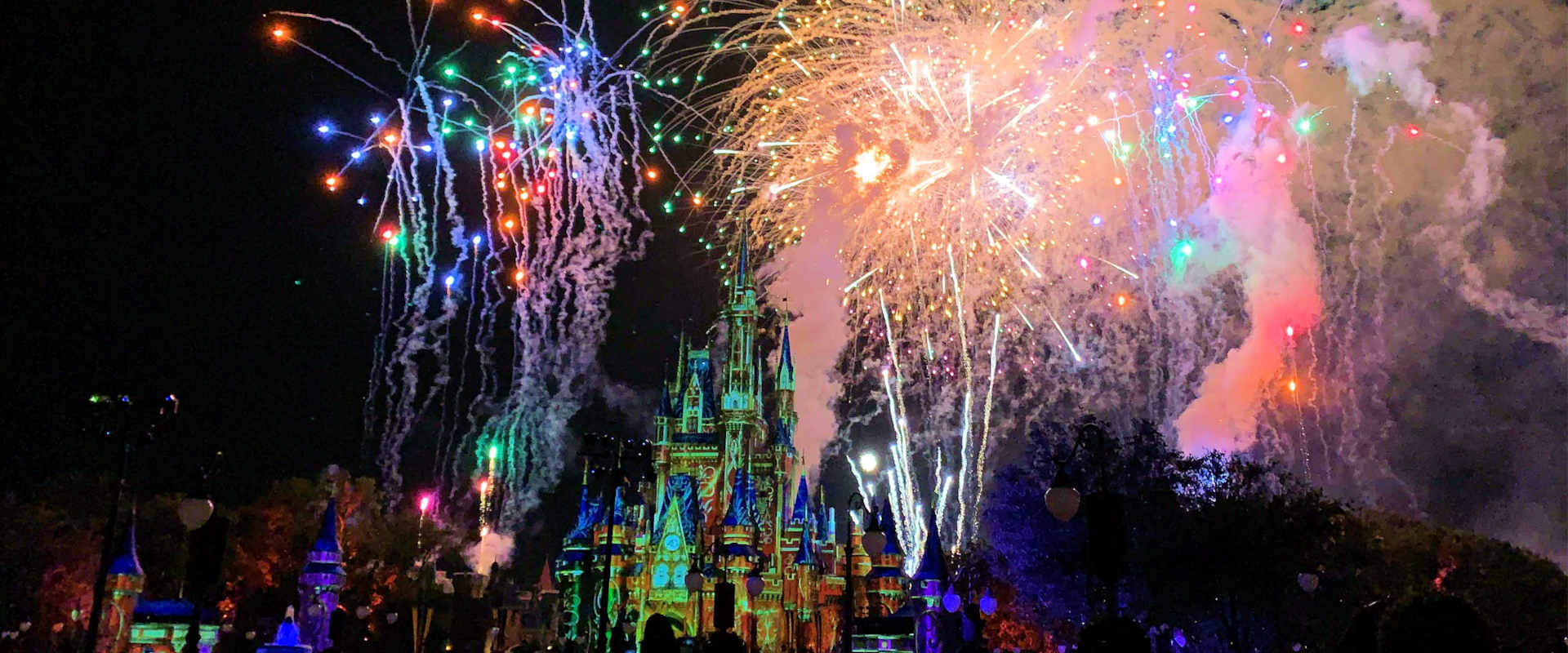 Ep27: Fireworks Dessert Party with Plaza Garden Viewing
AJ and Andrew talk about the Fireworks Desert party with standing Plaza Garden viewing that we recently experienced. How can you go wrong with lots of sweet and savory delights and then a reserved area to watch the fireworks at Magic Kingdom? You can't! Join us as we talk about this wonderful experience.
Listen here

Watch here
AJ Moffitt
This is episode number 27. And today we will be talking about the happily ever after desert parties at Magic Kingdom in Walt Disney World, Florida.
AJ Moffitt
Hi there. I'm AJ.
Andrew Moffitt
I'm Andrew.
AJ Moffitt
And you are listening. I was about to say watching because you might be watching. If you are. You are almost definitely listening, though. Listening to to grownups and a mouse and welcome, welcome. Thank you for being here. We're glad you're here. I'm glad you're here. I'm glad you're here. Because otherwise it would be one grown up in a mouse.
Andrew Moffitt
Well, we would have to rebrand everything. And that would just be horrible.
AJ Moffitt
Well, they take a long time. Yeah, so we're not going to do that. We're going to be two grown ups in a mouse. I'm a grown up here grown up in front of us. We haven't mouse. That's right. We have a lot of mice. There's, they're scattered, but they're around. If you have not done so already. Please remember to subscribe. This way. You don't miss any of our episodes. We typically will post a new episode every Monday. We try not to miss it. Unless, you know, like holidays. My once in a while. Stuff happens. But for the most part, we do post a new episode every Monday. And you can find us on your favorite podcast system. That's right. Google Play Spotify, apple, iTunes, you name it. We're probably there. That's right. Or you can follow us on social media.
Andrew Moffitt
Instagram, Facebook, Twitter,
AJ Moffitt
and now YouTube. Now YouTube. We've actually been on YouTube, but there was no video to accompany it. Now you can actually watch on YouTube. That's right. And everywhere. We are two grownups and a mouse. So look for two grown ups and a mouse or go to our website to grownups. animals.com.
AJ Moffitt
So day we're going to talk about the happily ever after desert parties, plural. That's right. I say parties, because I found out they have multiple parties now. Yeah, well, that we should go back because we've been doing the desert parties at Magic Kingdom for a long time. I don't even think we wrote down how long because I don't remember what year our first party was. I do remember it was at the Mickey's not so scary. Halloween party, right? We were walking through tomorrow, man, Paris, there were people standing out for the party. We asked them about it. And they haven't have space for two of us. So they we had to pay for it. But they squeezed to sin. And that was the first party that we attended. And that was the Hello wishes. Dessert party.
Andrew Moffitt
Yeah. And I looked after we done that. And they had only just started doing it, you know, week or two before. So we were we were one of the first. So we've been doing magic kingdom dessert parties pretty much since the beginning.
AJ Moffitt
That's probably why we were able to get squeezed in because now it's far from impossible, but it is a little more difficult.
Andrew Moffitt
Yeah. Any any to be, um, you need to be early with your reservations. Or if you're going at a less busy time. You don't necessarily have to be that whatever, 90 days, 120 days. I don't remember what it is now. But
AJ Moffitt
you're allowed up to 180 days booking right dining reservations.
AJ Moffitt
We when we first started going they only offer to one party. That's right. And it was located in Tomorrowland, Paris, and you just sat there and it was the one showing and that was it. So before we go into the real details, because most to the main the three parties are almost the same. There are now three different options for doing the fireworks and dessert party. Right there is the party that we did recently with our friends. There were six of us for adults, two children and we did the fireworks dessert party with standing standard excuse me standard garden viewing right and what that meant was we went to the dessert party first and that was at the top of Tomorrowland terrace and then after we were done eating our desserts we were led to the hub grass
Andrew Moffitt
That's correct. There's a special dedicated area for people that did the dessert party
AJ Moffitt
and that cost is $59 for adults or $35 for children ages three to nine right anyone under the age of three just like admission into Walt Disney World parks is free if you're under three right then the The second option is the fireworks dessert party with seated terrorist viewing also in Tomorrowland terrace however that is the one closer to the castle so if you were walking for Main Street up to tomorrow land and you walk through tomorrow land terrorist there's a restaurant on the right hand side it's not open often
Andrew Moffitt
Tobin and busy season
AJ Moffitt
right so we were sat on the right hand side because we did the one where we sat in the hub grass, but the second option would be on the left side because after you're done with your desserts, you stay in that area and you view the fireworks from that area. The third option is the after fireworks dessert party at Tomorrowland terrace. Right. And what they do there is you stand in near the hub grass, they have a roped off area just for people going to the party. And then as the fireworks finished they direct you to Tomorrowland terrace so that you can enjoy your desserts after the fireworks are over. Right. And let me go back to this second option is $79 for adults and 47 for children ages three to nine. And when I say adults, it's actually children ages 10 and up and anyone age 10. And up the The third option that I just talked about the one that's the after fireworks that's 69 for an adult and 41 for children ages three to nine. And what's great about having this three different options is they can get basically three times as many people per evening because it's very popular. People want to see it. So yes, does these definitely making money off of these, but at least they're also making three times as many people happy that they can do this experience, right?
Andrew Moffitt
Because that was one of the problems we used to have. Because after we done it that first time. Oh, so many years ago, we were lucky a couple more times. But then after that our luck started running out. And then because we would we would never remember. And the nature of our trips are more last minute. So we couldn't call him
Andrew Moffitt
and walking up there was rarely any room. So now now there's three different parties. So it's a lot easier to get in touch, right?
AJ Moffitt
In fact, our friends booked it for us. And it was probably about a month in advance, give or take somewhere between four to six weeks in advance. It wasn't it was not six months in advance. You know, it was
Andrew Moffitt
right I did. They booked a meeting in November, late November, right. So about this about six weeks, right
AJ Moffitt
between for it somewhere between four and six weeks, for argument's sake, right. And they were able to get in for six of us. So again, they're all very similar. But let's talk about what they offer sure that the parties they what I like is they have sweet and savory because especially when we went a few weeks ago, we had not eaten dinner prior to going right. So it was nice to have savory options. Because personally I like to have something more savory before I enjoy something sweeter for. So for the savory options. There were hamburger egg rolls, there were cheese and crackers and spinach dip. And let me also add there are more healthful options as they do have an assortment of fresh fruit, right. So
AJ Moffitt
a gluten allergy, you're watching your calories you're watching or carbs that you could probably find something to enjoy, even if you have dietary restrictions,
Andrew Moffitt
of course. And then obviously, you can also ask them and say I can't eat x, y, z, and know they'll do their best to try to try to accommodate your name.
AJ Moffitt
And you can do that when you make the reservation. You might if you make the reservation online, you may need to call 1407 ww dying and speak with someone. So they can put a note on your reservation they should have or they might even ask you about it at check in. Or you can talk to them at check in. But it's always best if you can tell them about any allergies or food items you're staying away from etc. Before you go to a dining experience. So they do have those savory options. They did have a variety of beverage operations, coffee, tea water, and I want to say there were four different types of juices.
Andrew Moffitt
Well, it was they had a sparkling apple cider.
AJ Moffitt
I wasn't even including that before different kinds of juices,
Andrew Moffitt
which was not which is non alcoholic. There were no alcoholic beverage options. So yeah, there was a pink lemonade. I think there was a regular lemonade. One of the things that you're thinking of juice, it was it was just playing mill and then
AJ Moffitt
know there were there because I mixed two together. And the two one of them had like mango in it. And the other one had something else sweet. Both but both of them had a citrus, you know, either orange or lemon mixed into it. So I wasn't thrilled about that. Right.
Andrew Moffitt
Why I think it was to lemonade, a tea and then the milk. Well, we have picture so we should have we should have looked.
AJ Moffitt
I'm right. He's remembering wrong. They did have all the things he just said. But there were four Jesus, I just don't remember the names of the juices, right. But I do know that there were poor juices
AJ Moffitt
posted in social media and everyone that's listening. They'll be like, Oh, yeah, because I made sure to take a picture of them. But I didn't mix the two lemonade together. I mixed the other two juices together. That's how I remember there were four juices, right. So either way, we digress as as typical for us. But that's what makes us fun. Yay. So there were these three options. And then of course, what they did have more of is the sweet options.
AJ Moffitt
So they had a villains chocolate cupcake, and that was a purple better cream and chocolate crispy pearls. They had a pineapple delight which is a dollop inspired treat. I'm not a fan of dolla, right, but I think I already just said I'm not a fan of citrus. A lot of people loved all whips. Can't wait to get to Disney World to have a goal lip. And I'm like, Why
Unknown
you?
AJ Moffitt
You have one a few weeks ago at Disney Vero Beach? I did. And it was good. It was citrus like scream.
Andrew Moffitt
Well, basically, it's kind of a pineapple and ice cream. That's
Andrew Moffitt
not my cup of tea. Well, no, because it's not tea.
AJ Moffitt
Haha, there are chocolate dipped strawberries, which is one of my favorites in the parks. If I am correct, they charge $3 and 99 cents for one chocolate covered strawberry. Granted, they're pretty big. You know, they the ones that they sell individually for $4 each. They are larger chocolate covered strawberries. But the dessert party is all you care to eat. So you can have multiple chocolate covered strawberries. And I did because I enjoy them that much. They owe it remember what you said about the chocolate covered strawberry. That was kind of cool.
Andrew Moffitt
How they're stamped it. Yeah, at the bottom.
AJ Moffitt
They took the flat side of the strawberry and put a chocolate piece on it to kind of hide that it was a flat side and stamped it happily ever after. Right. So and again. We have pictures of this. So we'll be posting the pictures in our social media.
Andrew Moffitt
And you were were both right and wrong.
AJ Moffitt
Why you found the picture?
Andrew Moffitt
No, I from from the list of drinks.
AJ Moffitt
Ya know, you have to find the picture I took. Okay, we could pause this. I can go get my phone. It's still on my phone.
Andrew Moffitt
No, no, it's not necessary.
AJ Moffitt
We'll have to see if we have to put you know, a disclaimer in our social media. He was wrong. Andrew was wrong. AJ was right. And it was right. I don't trust what other people say. I remember my memory can remember my memory. I remember what I saw was that's deep. I remember what I drank. I drank a mix of to juices and neither one of them were lemonade.
Andrew Moffitt
That's correct. Because one of them's a kind of a passion fruit, right? There was a strawberry lemonade, a regular lemonade. Those are the three juices know the other things where there was one thing a water one thing and milk. One thing is on sweet. There was another juice swear my life it had mango in it will swear on my life.
Andrew Moffitt
All right. But we're
AJ Moffitt
not going to talk about that anymore. Because we're wasting time. That's right, but I'm right. Trust me, anyway, so they had to drop into strawberries. They had chocolate marshmallow tarts and macaroons. Which I did not taste not a fan of macaroons either.
Andrew Moffitt
That's the beauty of having so much variety.
AJ Moffitt
Did you have a macaroon?
Andrew Moffitt
I did? How was it was a macaroon?
AJ Moffitt
Yeah, I don't like Mac words. So I don't care of Disney makes it I'm still not going to care for it. Sure. They also had a cheesecake brownie bite. I think you enjoyed that one.
Andrew Moffitt
That was really good.
AJ Moffitt
And it's just like it sounded. It was brownie bottom at the cheesecake top.
AJ Moffitt
Also, there was a strawberry tart, which I did not try. I don't know if you tried that one. I did not know the happily ever after cupcake. And of course, these are all miniature desserts. They were, you know, miniature cupcakes. You know, the desserts were about the size of the chocolate covered strawberry.
Andrew Moffitt
Pretty much their bite sized if you consider it a big bite. Right.
AJ Moffitt
Exactly. They had a chocolate almond cake with raspberry sauce
AJ Moffitt
and. And or you. Mickey treat whooped. Oreo panna cotta topped with two chocolate ears and sprinkled with chocolate pearls. I think I did have that one
Andrew Moffitt
You did? That was the one that was in the push up thing.
AJ Moffitt
Oh, right. And I made sure to get one with the right Mickey on it. Yeah. And we already talked about the cheese and crackers, the hamburgers, but the other two sweet options that they had more the Do It Yourself cooking cookies and ice cream decorating? Right there was someone over there serving ice cream, correct?
Andrew Moffitt
Yes.
AJ Moffitt
But the the cookies they had out the decorations. So you could put
Andrew Moffitt
lead cookies and brownies. They had a couple of what they had a couple different cookies like that. Oh, I got sugar cookies, chocolate chip cookies and brownies. And then you can and then the different types of ways to decorate. So there was sprinkles. There were chocolate chips. There was ice things, you know, all these all these things. Right?
AJ Moffitt
And on the opposite side. There was a some more bar right. And there was a cast member there to assist with the making this more as they actually were the ones to hold it over the plane for you. Right. I didn't have one of those either, right. I don't know if you had one. No,
Andrew Moffitt
I don't. I'm not big on my marshmallow. So I don't and I hate food. Right. So as doesn't it doesn't didn't appeal to me.
AJ Moffitt
We went to Disney Vero Beach not too long ago. And I ordered a s'mores desert because they changed their dessert menu. So I was like, Okay, I'm not a big fan of marshmallows. But I like graham crackers. I like chocolate. So I ordered the desert and they brought it out and the top was black end, right. It looks gross. Very first thing I did was scrape it all off. Sure. Because I don't like burnt marshmallow. That's of course some people are probably listening and going. Oh my god. That's the best part. But not my opinion. Not for me.
Andrew Moffitt
Well, technically, that is what you do with this more as you hold it over an open fire and burn the crap out of
AJ Moffitt
Yeah, I'm not. I'm not into Bert food. So that was that was nothing that appealed to me. What was nice about the dessert party, at least for us, when you first check in, they give you a wristband. That is one if you need to go out of the area and return they'll know that you're part of the party. Right. So that's why you have the wristband. The other reason when they bring you to the hub grass, you show your wristband, and that will allow you entrance because it is roped off. Sure and what was nice, what I started saying is we were on again, if you're coming from Magic Kingdom going towards tomorrow land through Tomorrowland terrace, we were on the right side. And there are restrooms over there. So we did not have to leave our area, you know, ensure a wristband or anything because we could just go use the restroom and come right back. Now of course, if you do the seated terrorist viewing, that's going to be a little bit different. You're going to have to show your wristband leave the area and return. But that's why you have a wristband to make it easy for them to identify you and let you back in and out as necessary. So it looked to us as if both dessert parties had the same dessert options.
Andrew Moffitt
Yeah, I would say so I didn't see anything that was remarkably different.
AJ Moffitt
Well, I'm not I forgot to look to see if they offered alcohol at the the one that you remain seated in that area.
Andrew Moffitt
Well, it was only a $10 difference in price or
AJ Moffitt
20 to $20 difference in price
Andrew Moffitt
even. So I don't think I don't think that's enough to really justify having because it because the the after one is only $10 more it's kind of goes in $10 increments, you know, 5969 79.
Andrew Moffitt
So
AJ Moffitt
when we first started going again, as you said it was years ago,
AJ Moffitt
there was no alcohol they upped it significantly but they added alcohol right so I believe based on that now that they have the three different parties that they may have removed the alcohol but just made the different accommodations so that they could get more people to enjoy the experience
Andrew Moffitt
because the nice thing was when you're in the in that lower Tomorrowland terrace area Hey you can sit down through the whole fireworks if you wanted to. or and it's also a very good spot to actually watch because it's you're not going to there's not going to be anybody standing in front of you or you know whatever else you know because that was it wasn't that big a deal where we were but you know when the fireworks started everybody stood up and then a few people did so then you had to basically stand up if you wanted to see and then you know there's a few people that are holding their phones up and then this net
AJ Moffitt
Well speaking of the fireworks let's let's transition into a discussion about the fireworks show itself sure for us this was our first time seeing happily ever after right and my favorite firework show is the old version of Star Wars that they did it Hollywood to use my followed by holiday wishes followed by wishes yeah I honestly I probably like The Star Wars Show and the hollow wishes equally as much they're just very different so it's hard to make a mistake you like one over the other I mean one star wars and ones Halloween but wishes was a great show I really really enjoyed the wishes fireworks show I was not a fan of happily ever after. Personally my personal opinion was that wishes was a narrated story with time fireworks to it right and this show was more a castle show with a few fireworks in the background
Andrew Moffitt
I think there was just as many fireworks there was no obviously no narration or anything it was just music and then it was very much you have to you kind of almost have to see the council in order for the rest of it all to work because the music is obviously time to the fireworks and it's time to the but it was a show on the on the
AJ Moffitt
that that was my issue I just felt like the fireworks were spontaneous and I know they're not I know that they are planned out and they're gonna you know they're gonna put them in the same order every day but I feel and I could be wrong but I feel as if the wishes fireworks show more more in timed my to the show. You know I just wasn't I just felt as if there were lots of fireworks as you said. I mean I don't think there were less fireworks that's not what I was saying. But I just felt like they were just okay we're gonna throw a firework we're going through a firework and they just kept on running out they were they were trying to the music they didn't seem that way to me though I didn't get that impression. So it was just fireworks for the sake of having
Andrew Moffitt
four juices so
AJ Moffitt
no I don't think there were four Jesus I know there were four juices and so for that I was not thrilled about it now our friends that we were with I you shouldn't speak for them but I will
AJ Moffitt
the gentleman said no he really likes it because he likes Disney songs because that's basically and I don't think we really said that that's basically what happily ever after is it's a bunch of Disney songs you know talk all the stories that have a happily ever after and you know going those songs throughout it um what I did like was that Tinkerbell still does fly over as she always did in wishes the now it's towards the end so don't get disappointed if you don't see her at first you know because I was thinking they I guess they got rid of it but they did not Tinkerbell will still fly over
AJ Moffitt
and I was looking to see if you can purchase the sound track. And I'm not saying that you can or can't I didn't find anything except that as a year ago, you could listen to it on Spotify, right? Of course that was a year ago. So I don't know how updated that is. And personally if it was just a castle show without the fireworks in the background. I would have enjoyed it more because the castle show itself was amazing. It was really really well done. You could really have a good vision of everything going on on the castle. So as a castle show, it was great. I just didn't enjoy it as much as a firework show. Well so on that note, we're recording this in the evening and it's dinner time and I want to go get something to eat. That's right. So again, thank you for listening. Absolutely. If you haven't done so already, please subscribe. Yeah. If you have done so already. Thank you for for subscribing. Absolutely. We will catch you in a week. Feel free to catch up on episodes that you may not have listened to or watch
AJ Moffitt
and on that note, I will say goodnight or Good morning or good afternoon
Andrew Moffitt
or good day nor just goodbye Okay. Bye bye.
Transcribed by https://otter.ai